January Workshop
Presented by Ruth Montalvo

Pieced Curves
Saturday, January 12 9 am to 4 pm
Information to come
---
March Workshops
Walking Foot Wonders

Friday, March 15 9 am to 4 pm
Learn to stitch beyond the ditch and unleash the power of your walking foot to quilt modern or traditional designs. Walking foot motifs to be taught include: wavy lines, decorative stitches, irregular grids, large continuous spirals, several straight line variations, and more! You'll leave class armed with the confidence that yes, you can quilt your own quilts!
Class will also include a discussion on basting, favorite tools and supplies that make the job easier, plus tips for putting it all together on a real quilt. Students should be comfortable with their sewing machines, and will practice on their own pre-basted fabric and batting samples.

****************************************
Free-Motion Favorites

Saturday, March 16 9 am to 4 pm

Embrace perfectly imperfect quilting! That means little to no marking, and a whole lot of gorgeous texture. Ease into free-motion quilting with asymmetrical wavy lines, then move onto loops, traditional and modern stippling, plus curvy fillers like wishbones and cursive l's that can expand to fit any space. Finish it off with several swirl variations, and you've got a toolbox of motifs to try on your next quilt!
Class will also include a discussion of basic free-motion quilting tips and tools, plus figuring out how to combine motifs together in the same quilt. Students should be comfortable with their sewing machines, and will practice on their own pre-basted fabric and batting samples.
---
April Workshops
Wedding Star Table Topper


Friday, April 12 9 am to 4 pm
The Wedding Star Table Topper pattern is Judy Niemeyer's original Wedding Star design downsized to a 2 ring by 2 ring layout, measuring 30" x 30". This design makes a great teaching tool due to its small size, the fact that it is affordable to kit, and because students enjoy small projects that allow them to get their feet wet without the commitment to a large project they may not be able or willing to finish on their own. It is also just a cute size and makes a great companion project to the large quilt sizes or a stand alone accent to any table you may have in mind! This design has become a classic in the quilting industry and is one that continues to sell more each year than it did the year before.

****************************************
Island Sunrise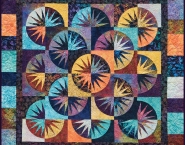 Saturday, April 13 9 am to 4 pm
Bradley and Judy Niemeyer designed the foundation pieces and layout for Island Sunrise. A collection of fabrics designed by Island Batik were used make the quilts shown on the cover. A sewing technique called foundation paper piecing is used when sewing the pieces onto the foundation units. Curved piecing and traditional piecing are required to join the units after the foundation piecing is completed.
This past year we have designed new, fast, and easy cutting instructions using Template Layout Sheets, making this a fun and easy quilt for any beginner or advanced quilter to make up in just a few days. A special thanks to Island Batik for providing us with the fabrics to make the quilt shown on the cover page.
---
May Workshops
Flowers of the Gorge


Friday, May 10 9 am to 4 pm
Flowers have been an enduring source of inspiration for quilters; many traditional quilt blocks feature flower patterns. The remarkable array of miniature wildflowers that can be found in the Columbia River Gorge and surrounding hills of the Cascade Mountains inspired my series of flower designs. Based on the design and piecing techniques of Ruth McDowell, these designs take traditional patchwork a step further through the use of unexpected fabric choices. Join us in celebrating the beauty of flowers. We will learn the basics of Ruth piecing techniques and her fascinating use of fabrics.

****************************************
Pieced Pets


(Saturday, May 11 9 am to 4 pm
Pets are fun, fabulous — and often furry. They steal our hearts and enrich our lives. Pieced Pets will tickle your fancy as these playful patterns bring these cherished family members to life. The patterns in this series will initially focus on dogs (yes, I am a lifelong dog lover). Other patterns of pets large, small and exotic will be included in the series.
In this class, you will select from several patterns to create your wallhanging. A brief discussion introduces the methods and techniques of freezer paper templates. You will then prepare a freezer paper template for your pattern and begin the process of selecting fabrics for your design. We will also discuss sewing methods and sewing order to complete your wallhanging.